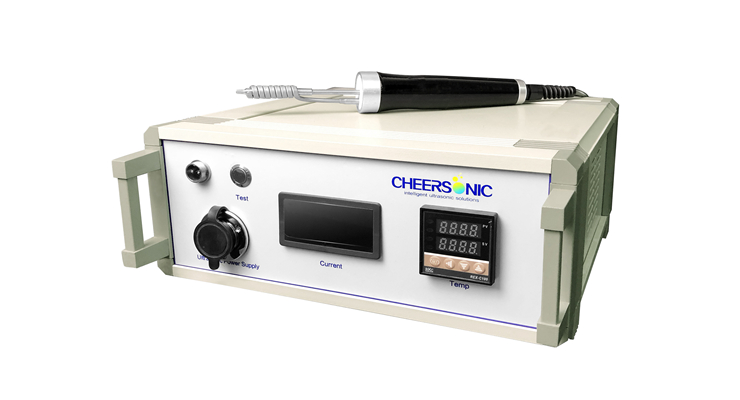 CS60-X15I Ultrasonic Soldering Iron
Ultrasonic Soldering Iron makes it possible to solder glass, ceramics and low-solderability metals, such as Al, Mo, stainless steel etc. This is an ultrasonic soldering device that produces high quality soldered joints. The soldering iron consists of a high performance sheath heater and transducer, supplying heat and ultrasonic oscillations to the tip. Using solder alloy, you can easily solder directly to metals, semiconductors, glass and ceramic substrates and other low solderability materials, such as Al, Mo, or stainless steel.
This superior bonding technique provides an excellent airtight, weatherproof, humidity resistant seal as well as joints with good electroconductivity between interconnected layers.


• Soldering to glass or ceramics
• Soldering to low solderability metals
• Lead bonding for superconductive materials
• Lead bonding for solar cells or modules
• Lead bonding on the surface of display
• Direct soldering to glass, ceramics, low solderability metals
• Adjustable ultrasonic-power output.
• Heater temperature is possible to adjust between 200-500℃ at intervals of 1℃.
• Soldering condition is possible to reproduce by display ultrasonic-frequency, ultrasonic-power and heater temperature.
• Compact handy type, portable hand and spacesaving.
• Easy to operate.
• Variable power supply with AC100V/240V switch.
• Stable ultrasonic frequency with constant amplitude control and new feedback system for automatic-adjustment of resonance frequency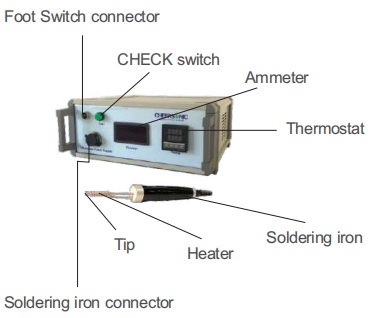 GENERATOR SPECIFICATION

Ultrasonic-frequency

Auto control 60KHz± 5KHz

Ultrasonic-power

Rating 15W (max)

Temperature range

200℃- 500℃

Power setting

Variable (multi-choice)

Power Requirements

AC100V/240V, 50/60Hz, 150W

Dimensions

255mm (W) * 255mm (D) * 120mm (H)

Weight

app. 6kg

IRON SPECIFICATION

Transducer

Langevin type (P.Z.T.) 60 kHz

Tip material

Special steel alloy

Tip diameter

Φ4.0mm (Std.)(custom made)

Heater

High performance sheathed heater 65W

Dimension

Φ36mm (max) x 250mm

Weight

app. 210 g (with cord)