Chemical Resistant Ultrasonic Nozzle
The process of ultrasonically spraying corrosive solutions such as phosphoric acid and hydrochloric acid solutions provides greater chemical spray compatibility. Industrial spray applications benefit from this new technology, providing improved performance and longevity for ultrasonic nozzles for spraying corrosive chemicals.
Ultrasonic nozzles are made of titanium alloy due to their inherent strength and chemical resistance. In order to extend the life of the nozzle, the company sometimes uses more protection to avoid corrosion of the nozzle body and the atomizing surface.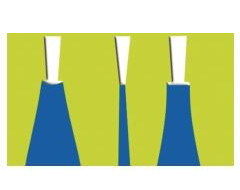 Technical advantages:
Up to 80% reduction in the amount of spray material used
Reduce the amount of dangerous chemicals overspray
Non-blocking repeatable spray performance
Prevent erosion of aggressive acidic chemicals
The choice of droplet size depends on the frequency of the nozzle